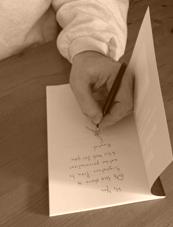 The two owners of this small online shop, the writer-couple GardenStone and Hannelore Goos wish to thank those who order their books directly here from the authors.
For this reason they like to give every ordered book a personal note by signing (autographing) the books at the name of the buyer with a few thankful words and a signature. Please write at the checkout form at the field "Autograph for (Forename)" which name shall be used for that.
You can write there the forename of someone else in case e.g. the book is meant as a present for someone.