at the books presentation site of the two authors and married couple Hannelore Goos (HG-Books) and Gunivortus Goos (GG-Books). See the menu above. The second mentioned published until a few years ago under his pseudonym GardenStone.
We present the books we each wrote and also offer an option to order them.
Almost all of our books can be bought in many bookstores, but books that are bought directly from us are signed (autographed) by the author.
Of course, you can also order a book meant as a present for someone else. Then we need the name of the beneficiary to personalize the book correct.
In the case of books that we do not have in stock, you will be forwarded to the publisher or a favored online bookstore at ordering.
Hannelore Goos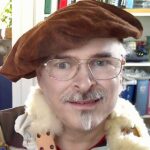 Gunivortus Goos