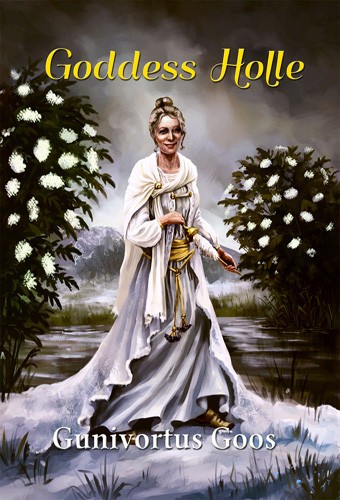 Title: Goddess Holle
Author: Gunivortus Goos
Format: Softcover
Pages: 428
Illustrations: 115 color, few b/w, 4 maps
Dimensions: 172 x 221 x 26mm, 740g
Publication date: 30 Sep 2019
Publisher: BoD
Language: English
ISBN: 9783749496662
Price: € 25,00
Description:
After the first German edition in 2001 and a second edition in 2006 (which was in 2011 also published in English), there is now a very heavily revised 3rd edition of the book "Goddess Holle". Even though the basic framework of the 2nd edition has been retained, not only are minor and major errors corrected, but all chapters, the book calls them 'paths', are supplemented with many additional new parts (in varying degrees). This new book has therefore become considerably more extensive, in quantity there are about 182 pages more than in the 2nd edition; it contains more fairy tales, many more folktales, more hiking trails, more poetry and more plants that have a connection to Holle. In addition, the chapter about Customs and Traditional Folk Knowledge has been significantly changed and supplemented, and so is the chapter "Researchers and their Research" in which the latest available research sources have been incorporated, and theories, theses, etc. have also been added that were not in the previous edition.
To the concluding path 'Culinary delights with Frau Holle' also were quite a few recipes added.
The many illustrations, of which about 115 in color (including 14 maps), form a significant extension as well to the previous edition.
---
To order this book, please fill out the form below (don't forget to tick the box of the book in the list!).
You can of course tick several boxes to order several books.
After clicking the "Submit" button, the data you provide, including the order, will be transmitted to the shop operator and will NOT be saved on the server. In response to that email, you will receive an email with the payment details.
Prices are in Euro, but to your convenience you will find a currency converter in the footer of this page.
Order form