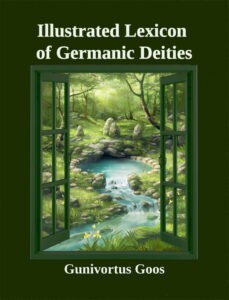 Title: Illustrated Lexicon of Germanic Deities
Sub-Title: –
Author: Gunivortus Goos
Format: Softcover
Pages: 344
Illustrations: 126
Dimensions: 17 x 2.2 x 22 cm – 608 g
Publication date: October 10, 2022
Publisher: BoD
Language: English
ISBN: 9783756855971
Price: € 18,00
Description:
This lexicon of Germanic deities fills a gap in its branch. It introduces goddesses and gods of Germanic peoples in the form of a lexicon. It contains ca. 290 deities whose names appear in inscriptions from Roman times, as well as deities from mostly medieval literary works from Iceland and Scandinavia, and goddesses and gods that are mentioned only in sources of later times, where the gathered collection of folk tales from the Renaissance on plays an important role.
The quality of these sources varies greatly, all have their shortcomings and leave many questions unanswered. Regardless, this lexicon tries to explain all this as good as possible … unambiguously and critically.
The longer introductory chapter plays a central and basic role in classifying and evaluating the provided information.
If you like to buy this book, and your postal address is NOT in Europe, first try to buy it in your favorite book shop, then consider the German Amazon site below (compare price and shipping).