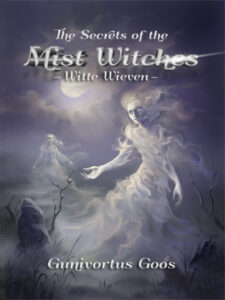 Title: The Secrets of the Mist Witches
Sub-Title: Witte Wieven
Author: Gunivortus Goos
Format: Softcover
Pages: 256
Illustrations: 94 color, 10 gray tones, 7 maps
Dimensions: 170 x 220 x 15mm – 452g
Publication date: March 30, 2022
Publisher: BoD
Language: English
ISBN: 9783753445823
Price: € 20,00
Description:
The German term "Nebelhexe" (Mist Witch) is no longer an unknown word, you can find it in many places: In ghost stories, in books for children and grown-ups, it is used in comics and plays, as well as in poetry, as picture descriptions, and in fantasy- and role-playing games. A musician used it as her artist name, and as a pseudonym it is also used more and more often on the Internet. It is even used in recipes, as a type of beer, and as the name of a well-known tourist destination.
The underlying customs and folk knowledge, including many folk tales from past centuries about the fog creatures from mainly the German-Dutch border area is presented here. In the book the dialect term "Witte Wieven" in this or similar spellings is often used for these supernatural mist women, who often have their dwellings in small hills or waters. By means of background information, collected customs and folk knowledge, more than 80 folk tales, some fictional but exciting stories and many decorative illustrations in color these fog creatures are presented here, but in a chapter of its own it also gives due attention to similar beings from other parts of the world.
If you like to buy this book, and your postal address is NOT in Europe, first try to buy it in your favorite book shop, then consider the German Amazon site below (compare price and shipping).