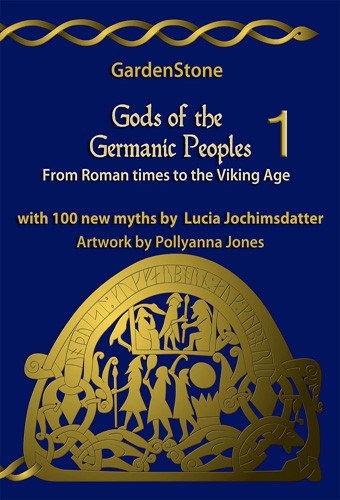 Title: Gods of the Germanic Peoples (Volume 1)
Subtitle: From Roman times to the Viking Age
Author: GardenStone (Gunivortus Goos)
Format: Softcover
Pages: 328
Illustrations: 45 illustrations in color and 60 in gray-tones
Dimensions: 7.4 x 0.7 x 9.7 inch
Publication date: 2014
Publisher: BoD
Language: English
ISBN: 9783734732010
Price: € 27,00

Description:
This work, containing two volumes, offers information about over 270 deities of the Germanic peoples and covers the time from the Roman Era – the first centuries CE in which the Roman Empire enfolded large parts of the territories of Europe where Germanic peoples lived – up until the Viking Age. The scientific information is accompanied with many new 'myths' and a rich amount of illustrations. All together it presents a much more vivid presentation than solely dry scholarly information could offer.
This volume 1 contains a longer background introduction and the deity information from A to J(arnsaxe).
This work is discontinued and already removed from book shop catalogs.
The information from this and part 2 is, after updating and expanding it, published in the book "Illustrated Lexicon of Germanic Deities", see here.